(Santiago, December 27th, 2019).- Valeria Pinto was the first trans person in Chile that changed her name and registral sex thanks to the Gender Identity Law (GIL) that became effective on December 27th. The coordinator of de OTEDUCA Unit, Kris Córdova, witnessed the special audience. After almost 7 years of this unachievable fight of the community, this law is achieved and it seems that it will transform Chile into a fairer country by legally allowing the rectification of name and sex change in the ID cards (and other documents) of trans people in a non-pathologized process.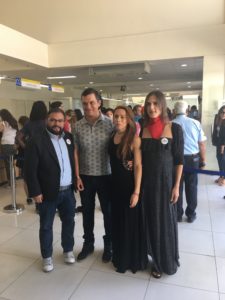 Franco Fuica, next to
Valeria Pinto y Kris Córdova.
However, Kris Córdova said that there are some children that were excluded, but that they will keep fighting until having a comprehensive law that includes the rights of health, education, labor inclusion, pensions, justice and reparation of damages to all the peers that have lived precariously and have suffered discrimination historically. For Valeria Pinto, to do this process is an important step that will allow her to find a job. At the same time, she called upon the State authorities so the labor inclusion of trans people can be achieved.
While the coordinator of the Legislation Unit and Public Policies, Franco Fuica, considers that the GIL is an important step in matter of rights; they, at the same time, remembered that, that very important day for Valeria was also sad because many children under 14 years old won't be able to change their registral sex and name through the GIL, that's why they said that they will keep working until they get a trans comprehensive law.